Lying in bed with my throbbing ankle propped up. I'd taken the dog for a walk – my foot found the pothole my eyes had missed – hobbled home  – and now feeling immensely sorry for myself, alone in the house. And all I want is bread and butter pudding. Not any old bread and butter pudding. My Gran's bread and butter pudding (Okay I'll settle for the M & S version – that's the next best thing!)  Bread and butter pudding is for me the ultimate comfort food.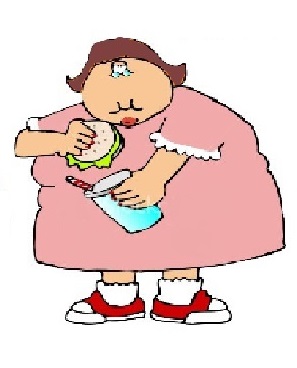 So are the Grandparents making your child fat? Possibly they are. I'm thinking not only of treats but how we hook kids on Comfort Food. Like my craving for Gran's bread and butter pudding. It's my psychological substitute for the warm hug and loving support I need when I feel down. But aren't grandparents supposed to be doing the loving, calming, make-you-feel better thing? Of course they are. But children, like all human beings, need loving connection. Food becomes the addictive substitute.  Not any food – but the sweet, sugary food we associate with tender love and care.
As parent, you need to have the serious discussion with the grandparents about giving TLC without creating a dependence of overly sugary, high calorie foods to feel better.
Take for example the day Betty comes home from school to her grandparents' house. Within minutes she's in floods of tears, sobbing because the class has just been told that their beloved teacher will be leaving them at the end of this week.
Doting Gran, in her concern for her grand-daughter, scurries to the kitchen.
She comes back with a plate laden with a gI-NOR-mous slice of rich chocolate cake.
'Here, darling, this will make you feel better.'
The sugary chocolately goo has the desired effect as Betty stops sobbing and begins munching. But what's the long-term impact? Repeated incidents of comfort food teach Betty to reach for the indulgent, sugary, fat-inducing foods whenever she feels sad.
And so the loving grandparent unwittingly opens a trapdoor that could lead to unhealthy eating, and ultimately serious life-long health challenges that they would never wish on the child they love so dearly. Grandparents need to hear that developing their grandchildren's habit of comfort eating could lead to diabetes, heart problems and other debilitating and life threatening health issues. Grandparents might see a 'cuddly child' and be unaware the child who is overweight in pre-school years is likely to have a life-long challenge with weight. What grandparent would wish ill health on their grand-children.
So what did Betty really need? She needed a loving person to hear her story, without interrupting, without trying to explain it away or tell her it's not really so bad. She just needed her experience to be heard.  And she needed someone close to empathise with her emotional pain:
'You're feeling so sad about your teacher going. You're really disappointed.' When a loving person connects with Betty's story she will 'feel felt', and she will be more able to contain her emotional pain. Yes, she'll cry. That's okay. Grandparents need to know the tears we cry when we are distressed are chemically different to the tears we cry when we peel an onion. Upset tears contain stress hormones. So there's wisdom in the old sayings, 'Have a good cry.' / 'Cry it all out.'
When Gran or Grandad have listened deeply and been there for her in her tears, Betty will be able to move forward. The wise grandparent will now ask something like,
'I can see you really care about your teacher. What would you like to do to show your teacher you're sad she's going?'
Here's the opportunity to provide the child with a healthy stress relief. Grandparents (and parents) need to have crayons, coloured papers, glue and suchlike always at the ready. Get her involved in something creative to give to her teacher – maybe a hand-made farewell card. When we make art we make meaning of our lives.
Of course there are other ways Grandparents can help their grandchildren deal with upset emotions. Gardening, planting our spring seedlings or raking up autumn leaves, picking flowers, walking, building a model, knitting, cooking, quilting  – all take time. And time is often exactly what the child needs. Time to slow down and have someone there to hear you. Someone who listens with their whole heart. Someone to hold you. Someone to hold your thoughts and emotions. Yours ups and your downs.
Grandparents can be key to helping our children develop healthier lives. Not only physically healthier but emotionally healthier. Leaving the discussion with grandparents at 'Don't give them sugary food,' is missing the mark. Grandparents can be key to giving children what they really need, instead of the hollow sugar food substitutes that never fill.
Let's affirm grandparents for all the meaningful ways in which they give our children the message,
'You are precious. You are special. You are loved.'
For printable version CLICK HERE.